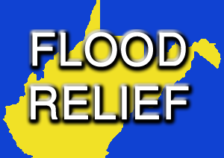 PMCA Board Member Andy Daniel posted this on Facebook yesterday (6/26):  
As many of you know West Virginia has been hit with the worst flooding since 1985 and has been declared a state of emergency. We were very lucky and fortunate in the Parkersburg area but many other parts of the state were not so lucky. Many citizens have lost everything. Myself, along with many other concerned local West Virginians, are putting on a drive for supplies to help in the clean up effort. Clint Suggs of PMCA has been in contact with the Red Cross and they are in desperate need of the following items:
WATER

PAPER TOWELS

BLEACH

TOILET PAPER

BUCKETS, MOPS

CLEANING SUPPLIES

SAFETY GOOGLES

WORK GLOVES

FLAT EDGE SHOVELS

TRASH BAGS
Unfortunately the Red Cross does not have the man power or the storage to collect items here in Parkersburg. For that reason we will be collecting donations of the above listed items at my office – 3D Construction at 514 George Street Parkersburg WV starting Monday from 8:00 AM until 4:30 PM special arrangements can be made for later hours by messaging me. I have a 12 foot flat bed truck and our goal is to fill it up. We will be making the first delivery to Hurricane WV on Tuesday and will continue to collect these items until we are told they are no longer needed. Please I need your help to make this work. 
PMCA has made a generous donation to the American Red Cross and we are asking our PMCA members and our community to assist in this relief effort!